📡 The Internet's Latest Obsessions
A special three-part edition of On My Radar after the hiatus. Starting with Niche Aesthetics and Emerging Trends on TikTok and Beyond.
Welcome to our three-part edition exploring the latest obsessions on the internet. After a brief hiatus, I'm excited to bring you a series of posts dedicated to the latest internet trends and emerging phenomena, featuring mostly info from the first three months of 2023.
In the first part, we'll be delving into niche aesthetics and looking into the innovative ways people are remixing nostalgia while rejecting traditions in their choices and behaviors while exploring how these changes can impact other aspects of their lives, from social interactions to food choices and more.
Ready? Let's get started.
On my radar 📡 is a reader-supported publication.
To receive new posts and support my work, consider becoming a free or paid subscriber.
Part 1 → Niche Aesthetics and Emerging Trends on TikTok and Beyond
💾 Niche Internet Aesthetics → The TikTok revival of this post-Y2K microtrend tells us a lot about our fraught relationship with modern technology.
📼 Nostalgic Newness → People are remixing nostalgia and rejecting traditions in their fashion choices.
📼 Nostalgic Tech is Also Here → As our lives become increasingly dependent on technology, younger generations, despite being digitally native, are questioning the world in which they were raised. For some, it's driving a resurgence of nostalgic technology, but for others, it means shunning and unplugging altogether.
🤳🏻 The Future of Social Media: Is the Golden Era of Social Over? → Dazed Studio's upcoming webinar, Broadcasts From Tomorrow, will delve into the uncertain future of social media. The event will discuss new communities, the search for authenticity and the rise of anonymity, creativity in the age of content, and how brands can navigate the ever-changing social media terrain.
🥦 The Truth about Drinking your Veggies → From Instagram to TikTok, green powders have taken over social media as the go-to health supplement with claims to reduce bloating, clear skin, and boost immunity. But with over 2.5 billion views under the #greenpowder hashtag, the question lingers: do these trending elixirs really deliver on their health promises?
📹 From Viral Videos to Safe Spaces → How TikTok became a haven for the queer and questioning youth of today.
🦹🏻‍♀️ 2022 Was the Year of the 'Bad Woman' → 2022 has proved that society's views on women are still backwards, constrictive, and built on binary thinking, as evidenced by the 'bad woman' phenomenon, where women like Amber Heard, Megan Thee Stallion and Sally McNeil are still demonized and ostracized.
🙅🏻‍♀️ The rise of the Deinfluencer → The cure for overconsumption or just another symptom of turbulent times.
💬 Love Bombing and Gaslighting: The Evolution of Dating Talk in the Internet Age → Words have always changed meaning, and the internet has only accelerated this process.
💭 Trapped in a Daydream: The Internet's Obsession with Maladaptive Daydreaming → The mental health discourse on TikTok sees users confessing to an intense and invasive addiction to letting their mind wander.
☎️ Buttons Are Bougie Now → Why buttons are making a comeback: more and more people are feeling unsatisfied with the lack of tactile response from our flat glass tech.
💎 Victorian Era Vibes and The Gory Comeback of Victoriana-inspired Bling → The form of jewellery helping people learn how to grieve in times we're are grieving a lot.
🥝 Why We Can't Stop Watching People Cut Fruit on TikTok → The addictive allure of watching TikTok videos of people cutting fruit and telling stories is not new, but there's something different going on. The videos, while sometimes instructional, are more often characterized by their gossipy and personal nature, as the creators slice and dice their fruit while sharing juicy details about their lives.
On my radar 📡 is a reader-supported publication. To receive new posts and support my work, consider becoming a free or paid subscriber.
🪞 Gen Z's Distorted Sense of Selfie → As the #NoFilter trend wanes, young people are experimenting with new ways to warp images of themselves online. Enter the traffic mirror.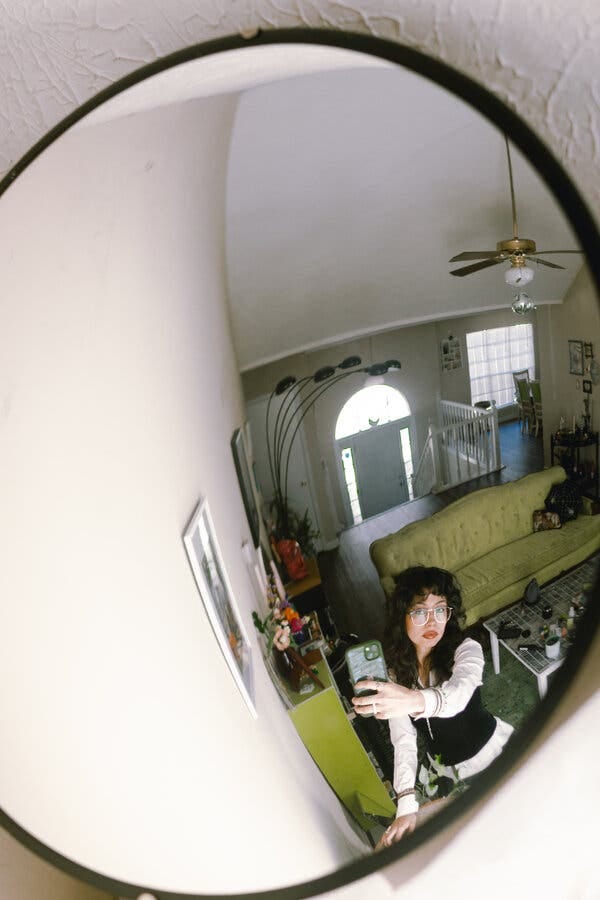 🍱 The TikTok Wives Behind #LunchForMyHusband → Women who pack adorable lunches for their spouses are attracting billions of views on the platform — and some heated opinions in the comments section.
🤑 Digital Money: Utopian Dream or Totalitarian Nightmare? → As cryptocurrencies become increasingly mainstream and even traditional institutions like the Royal Mint dabble in NFTs, the rise of CBDCs (central bank digital currencies) threatens to make physical cash obsolete. This shift to digital money also raises concerns about rising totalitarianism and surveillance, leading many to question whether we are truly one digital dollar away from living in a dystopian world.
💸 The 'Buy Now, Pay Later' Bubble Is About to Burst → Many Gen Zers have rejected traditional credit in favor of new-age layaway programs, which are riskier than they may seem.
Ending with a thought: