📡 The Internet's Latest Obsessions → Part 2
A special three-part edition of On My Radar after the hiatus. Part 2 → Exploring the Latest in AI and Other Interesting Finds.
Welcome to the second part of our three-part edition exploring the latest obsessions on the internet.
In this part, we'll be diving into the exciting world of AI and other interesting finds that have caught my attention over the first three months of 2023. From helping with job searches to AI's use in creative fields, we'll be taking a closer look at the latest trends and developments that are happening. We'll also explore the rising interest in mycology, the use of psychedelic treatments, and the ongoing debate on gender bias in urban design.
Ready? Let's get started!
On my radar 📡 is a reader-supported publication.
To receive new posts and support my work, consider becoming a paid subscriber.
Part 2 → Exploring the Latest in AI and Other Interesting Finds
Trying an AI app to help remember what you read → Using an AI app to improve online reading retention seemed like a smart move, until it turned out it might actually be messing with memory in the long term. Despite the potential drawbacks, it did prove to be a helpful tool though.
ChatGPT4 is here! → OpenAI's newest and most advanced system claims to produce safer and more useful responses than the previous versions of ChatGPT. It sure is getting more nuanced.
Revolutionizing Job Search with with AI? → From resume building to personalized networking, Wonsulting's suite of AI-powered tools promises a faster and more efficient way to achieve your career goals.
Another AI-powered tool revolutionizing creativity → Meet Clio.ai, 'the ultimate creative canvas powered by AI'. With hundreds of pre-made presets and the ability to create your own unique styles, this tool lets you turn your sketches into fully stylized images easily.
ChatGPT is Making Waves in Medical and Business Education → ChatGPT is passing the tests required for medical licenses and business degrees, which has sparked a conversation among academics about its advanced writing skills and the appropriate use of the tool as a resource rather than a replacement for certain skills, fueling the ongoing debate about exam policies.
The Algorithmic Pedestal: The Art Show Curated by both Human and Machine → Laura Herman, a doctoral researcher at the Oxford Internet Institute, explores the question of whether an algorithm can curate an exhibition better than a human at J/M Gallery in London. Two curators - one human and one machine - were invited to draw from the Metropolitan Museum of Art's Open Access collection to bring together works for display, sparking a conversation about the role of technology in the art world.
TikTok Employees Revealed to Have Power Over Viral Videos → TikTok's "Heating" button may not be the only tool that helps curate its trending content: Forbes recently confirmed that TikTok employees have the power to boost videos in order to introduce creators to the platform, raising questions about how much control users really have over what goes viral.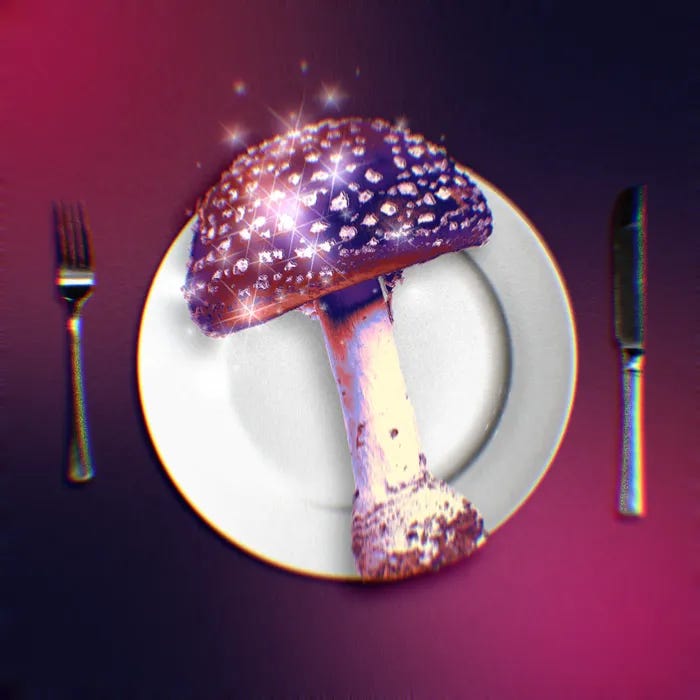 The New Culture Shroom Boom → From fashion to food, music, and even medicine, the study of fungi or mycology has taken the world by storm, with the global mushroom market predicted to surpass $115 billion by 2030. With big names such as Stella McCartney, Björk, and Joe Rogan jumping on the bandwagon, it's no wonder mushrooms are the talk of the town.
Psychedelic Treatment → Psychedelic mushrooms are being studied as a potential treatment for eating and mental health disorders. Studies have shown evidence for improvements in depression and well-being scores in eating disorder sufferers, leading to growing interest in the use of these substances.
The Last of Us Hype and Why Horror Stories Are Embracing the Power of Fungi → Fungi are becoming increasingly popular in horror stories as a source of fear and terror too. From parasitic fungi that can mutate and attack humans, to mycelium networks hiding dark secrets, mushrooms are taking over the genre in literature, TV, and film. While mycologists are not worried about real-life fungal threats just yet, the fascination with fungi in fiction is only growing.
On my radar 📡 is a reader-supported publication.
To receive new posts and support my work, consider becoming a paid subscriber.
Beating Information Overload → When critical thinking isn't enough, we need to learn 'critical ignoring'.
Tipping Is Weird Now → How technology and the pandemic have transformed the meaning of gratuity. From virtual tip jars to contactless payment systems, the way we show appreciation for good service has undergone a dramatic shift in recent times, prompting a reevaluation of what constitutes a fair tip in the modern world.
Is the British Tradition of Tea and Biscuits Dying Out? → The comforting ritual of indulging in sweet biscuits with a cup of tea is being challenged as younger generations opt for more savory snacks and quick bites due to busier lifestyles and exposure to diverse cuisines through social media.
Breaking Down the Gender Bias of Urban Design and How Cities Still Don't Work for Women → Despite global advances, gender bias in city design continues to restrict women's mobility, economic opportunities, and safety. The way cities are planned, built, and managed can compound gender inequalities, making life harder for women in both practical and symbolic ways.
Ending with a tweet: